We went to two Gloucestershire quarries, at Shorncote and Latton, on 27 November 1999, where you could pick fossil shells off the exposed Oxford Clay. Complete with new hard hats and bright yellow jackets, we got our eye in at Shorncote, then had lunch in the car park of the Cotswolds Water Park. Then we walked round the corner into the Latton quarry . . .
With high-vis vest and tough hard hat on
We scoured the gravel pits at Latton.
Old Father Thames once flowed that way
And left behind his load of clay
In '98 the quarrymen
Exposed it to the sun again
With many sorts of fossil shell
And, some say, mammoth teeth as well.
Whilst finding shells to extricate
And musing on that mammoth's fate,
A certain lady member found
A likely answer in the ground.
(The clay was sticky, grey and cloggy,
And recent rain had made parts boggy,
Its particles all fluidising.)
What happened next is not surprising:
Her left foot stuck . . . her right foot more so . . .
The mud had nearly reached her torso. . .
(Her chin might follow, then nose, then eyes –
Eventually, she'd fossilise . . .)
But rescue was at hand to yank,
With clay-filled boots and socks that stank,
Our heroine from Nature's clasp
Ere she should utter her last gasp.
And that explained the mammoth's end:
He'd been out fossiling with a friend
When it had rained the night before.
They sank in mud . . . and were no more.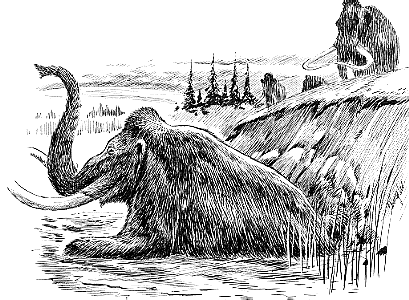 [Image: cryptomundo.com]