On the West Sussex coast, Bracklesham Bay is one of the most productive fossil-hunting locations around these parts. Throughout the year the sea erodes undersea exposures of fossil-bearing clay formed some 46 million years ago. Given the right conditions, a variety of fossils can be simply picked up from the sand or beach, including: bivalve and gastropod shells, shark and ray teeth, corals and many other marine fossils. One man has been leading fossil-collecting hunts here since 1983, and has his own website.
On the sea-floor of Bracklesham Bay,
Tidal erosion each day
Jiggles and jostles
Its Eocene fossils
And washes them out of the clay.
From there, as the tides come and go,
They're carried with each ebb and flow
Till they land on the sand
Of the Bracklesham strand,
Where they make a spectacular show.
If it rains, just put up umbrellas
And hunt for your first Turritellas,
Nummulites, Carditas –
Oh, there's nothing as sweet as
When you chance upon these little fellas!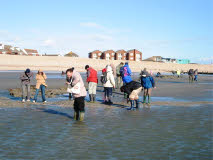 You need a good day at low tide
And must scour the beach, eagle-eyed,
If you want to go back
With a fossil-filled sack
To show to your friends with great pride.
If you're lucky, and in the right zone,
You may find that you're not quite alone;
For  who might appear
But the expert round here –
Yes, the Bracklesham King, David Bone!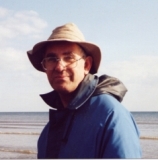 [Photos (© David Bone, used with permission): www.westsussexgeology.co.uk]