"No fly-tipping", the sign ordered. A problem for Mr W Stickers' Fly Removal Service.
I'm trundling round the country lanes
In a truck piled high with flies.
The people at the roadside gasp –
They can't believe their eyes!
The truck says "William Stickers,
No Job Too Great Or Small:
However many flies you've got,
Let Bill remove 'em all".
And business has been good this year,
The weather's been so sunny
That plagues of flies are everywhere.
And plagues of flies ain't funny,
I'm doin' a social service, see:
I ought to be supported!
But no-one wants the end result,
I'm always being thwarted.
Trouble is, the place I've used
To dump things hitherto
Has got a "No fly-tipping" sign.
But what else can I do?
I takes away yer pesky flies,
And yet I'm always taunted:
"Bill Stickers will be prosecuted" –
I feel I'm just not wanted.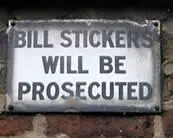 [Image: phrases.org.uk]