Hever Castle in Kent, where Anne Boleyn spent her childhood, is actually a moated country house and is now open to the public. I enjoyed a recent visit, but the A-boards, used to direct visitors to various facilities, were a little worrying. The nail on its pointing index finger was facing the viewer – try pointing to the left with your right hand and you'll see the problem.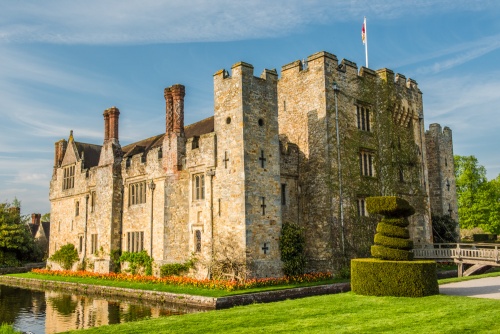 On the boards around the castle,
The hands point left and right:
"This way to gardens, café, loo".
But something's not quite right…
The wrist and palm are fine;
The thumb is drawn okay.
But the pointing finger's nail, you see,
Is facing the wrong way…
I wonder if the artist
Had a sitter for his sign
Whose fingernails were all reversed –
A quite unique design!
Oh well, I get the message,
The sign is there to show
Not how good the artist is,
But which way I should go.
I'll follow its direction,
But make a mental note
To Tippex out the fingernails
Next time I cross the moat.
Image: britainexpress.com